WELCOME to the VPFA Website.
2023 Annual General Meeting of VPFA ( PSBEV)
Notice of AGM , motions and Board Nominations 2023 1
2023 Director Nominations for  VPFA Board 
2023 VPFA Director Nomination Form & Information.
The VPFA congratulates Michael Paterson on winning Champion Bird in Show at this years Melbourne Royal Show 2023.
The VPFA would like to thanks those VPFA members who volunteered in the Pat a Chook pen at this years Melbourne Royal Show. Without your support the Pat a Chook pen would not be possible. So A Huge Thankyou.
National Poultry Young Judge Winner 2023 Michael Lloyd.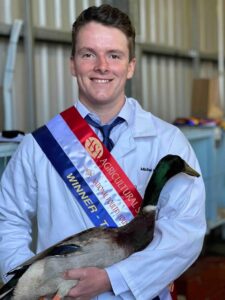 National Poultry young judges winner 2023
Thank you to everyone for all your support throughout the years and well done to my fellow competitors for such a great effort!
VAS Poultry Judging Competition at Melbourne Royal Show 2023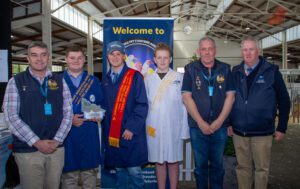 Congratulations to Josh Hancock 1st Place
Lucas Mc Dermott 2nd Place
Liam Collins 3rd Place
VPFA Junior Judging Fun Day 2023
Proudly hosted by Ballarat Poultry Society in conjunction with the Victorian Championship Show 2023.
19 Juniors took part in the Junior Judging Fun Day. All young participants very enthusiastic to listen to breeders talk on breeding , preparing, showing and judging their sections.
Alf Woods a Open Panel Judge discussed his years of experience on breeding hardfeather and judging hardfeather.
Len Wills an Open Panel Judge discussed Softfeather breeding and judging with our young enthusiastic Juniors.
Charles Jensen an Open Panel  Waterfowl Judge discussed experiences breeding and judging waterfowl.
Our future young judges then had the opportunity to cast their eye over Wheaten, Modern, Australian Langshans and Call Ducks. Under the watchful eye of our judges.
Congratulations to all our Juniors that participated.
1st Place Courtney Armeni
2nd Place Pyper Jenning
3rd Place Ivy Gorman
Other Attendees
The VPFA thanks all  Juniors who attended for taking the time to come and learn from some of the best breeders / judges in the Poultry World.
Thanks to the Ballarat Poultry Society for hosting the  State Junior Championship Show and Junior Judging Fun Day providing the venue.  Thankyou to the Ballarat team for keeping every one well fed.
Thankyou to Alf Woods, Len Wills and Charles Jensen for taking the time to come and talk to our Juniors. Thankyou to those who provided birds .
As we approach our final shows for 2023 dont forget to enter THE MELBOURNE ROYAL POULTRY SHOW  entries close on Thursday 17th August 2023.
VPFA are also inviting members to volunteer in the PAT A Chook Pen.
    VOLUNTEERS NEEDED For
         VPFA Pat A Chook Pen
    Melbourne Royal Show 2023
The VPFA are looking for VPFA Members to volunteer
                                 in the Pat a Chook Pen in the Poultry Pavilion.
                Dates: Thursday 21st September 2023 to Sunday 1st October
2023
Do you like talking to people about chickens then we need you at this year's Melbourne Royal Show.
Morning and Afternoon Shifts Available
8.30am to 1pm and 12.30pm to 6pm
Free accommodation available for those volunteering for two or more shifts.
Free Entry
VPFA Polo Top Provided
Car parking and Lunch, Tea, Coffee, Water, Biscuits provided.
All Volunteers must have a current Working with Childrens Check and undertake an online induction.
Please Contact the VPFA Secretary to book the dates that best suit you.
Anne 0412002266
THANKS FOR YOUR SUPPORT
Our  Shows at Shepparton where proudly sponsored by The Greater Shepparton City Council and Green Valley Grains. Thankyou for your generous support and to all our sponsors Thankyou.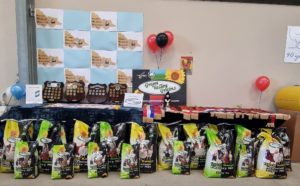 Both Essendon Poultry Society and  Victorian Waterfowl Association Shows in Shepparton where well attended. Dryland fowl  450 including turkeys and Waterfowl 550 including geese.
The Country News Featured our Shows on 25th June 2023. Anne also did 2 ABC radio interviews to advertise our shows.
Interested in becoming a Judge. Would you like to train as a steward.
Then attend one of the up coming training sessions.
2023 VPFA TRAINING / ASSESSMENT DAYS FOR JUDGES AND STEWARDS
Saturday 8th July 2023 10.30am
Host Ballarat Poultry Society
Hardfeather: Training and Assessments
Steward Training
Saturday 9th September 2023 10.30am
Host Warragul Poultry Club
Softfeather Training and Assessments for judges
Steward Training
RSVP VPFA Secretary: admin@vpfa.com.au
Please note that these events will only be conducted if RSVP'S are received. Organisers are all volunteers.
Please stay tuned for Waterfowl Training and Assessment date and location.
Further training sessions can be held at other clubs if requested.
SHOW NEWS
The 2023 Show Season has begun with over 400 birds exhibited at Benalla on 23/4/2023. Take a look at our news page for a photo of the winners from Benalla.
WOW what show was  Dandenong 50th Anniversary Show on the 6th May 2023 at Dandenong with over 500 birds benched it was a great day. Champion Bird was exhibited by Peter Ronzio. Champion Junior in Show was Pyper .
Geelong Show on Saturday 13th May 2023 had a total of 124 birds in the super show with The Dent Family taking out the major prize of $1000 with an Orpington Pullet. Reserve bird in Show was exhibited by Norman Ironside. 
Geelong Provisional Show had 420 entries with Erika Nash taking out champion bird in show with a Wyandotte and Reserve Bird in Show was exhibited by Anne Beaty a normal mallard drake.
POULTRY MAKE GREAT PETS
Do you have a poultry question?  Need some advice setting up your backyard chicken coop? Not sure where to start?
Then give Anne a call. 0412002266 with over 35 clubs around Victoria, we have members ready to help with your chicken needs.
Are your chickens  looking a little ruffled, not sure how to prepare birds for exhibition?    Not sure how to enter a poultry show? Are my chickens a Pure Breed?
We have over 35 affiliated clubs all around Victoria waiting to welcome you and help you on your chicken journey.
VPFA Board for 2023
Welcomes Peter Ronzio.
Welcoming back for another term Neville Chiselett, Len Wills and  Charles Jensen
Brian Daniels       Alf Woods       Tony Mann
Lorraine Edgley        Robert Maloney   Kevin Smith     Ted Brown
The Board of Directors wishes all our members  success in the 2023 Show Season.  Our Directors and Members are always willing to help and provide assistance to our membership. Please feel free to contact any of our directors and secretary for advice and support.
---
DAY PASSES
One Day Pass Rules
The person using the one day pass must be a financial member of that club and can only show at that clubs shows for that year , to show at other clubs they will then be required to purchase a VPFA membership.
Day Passes will be $15.00 with $10.00 being forwarded to the VPFA along with form containing the day pass holders details and $5.00 being kept by the club .
VPFA MEMBERSHIP
E journal Adult $55  Junior  $15
Hard Copy journal Adult $95   Junior $55
Family membership Hardcopy journal $95  E journal $55  Under this membership all family members show under the family name in the open section of the show.
—————————————————————————————————————————————————————-